Events at Dryden Fish & Game Club and in the area
---
2020 Spring Rifle Range Clean-Up
Saturday June 6 10am - 3pm
Dear DFG Club Members,
I would like to thank all Club members that came today to help improve our range. Many members came today to help. I deeply appreciate your commitment to maintaining and improving our range. You can see pictures from our Clean-Up below.
We have done all we planned, and we were able to do it relatively fast.
<![if !supportLists]>1. <![endif]>All the trash has been collected and put into dumpster. Old and destroyed targets have been disassembled and disposed of. The whole range was canvassed, and all trash found disposed of. Th ground around benches was swiped clean.
<![if !supportLists]>2. <![endif]>The benches have been painted - this year we painted just the tops; the sides are still in good condition. We have installed and repaired anti-wasp mesh.
<![if !supportLists]>3. <![endif]>Horizontal 4x4 on 100-yard target has been replaced.
<![if !supportLists]>4. <![endif]>Rubber flaps on 25-yard target have been replaced.
<![if !supportLists]>5. <![endif]>Three new standard portable targets have been built (with 2ft x 4ft target area), and one table portable target has been built as well.
No that the trash is removed hopefully we will be able to mow the range soon. Grass is tall now and needs mowing :-).
Thank you all for your support. Let's make sure the range stays in the best possible condition!
Jarek
DFG Rifle Range Master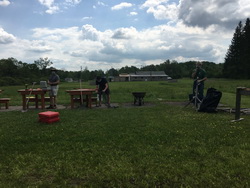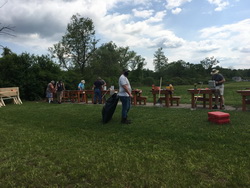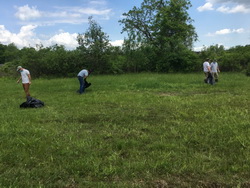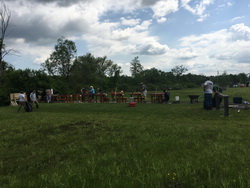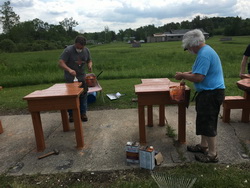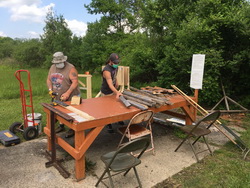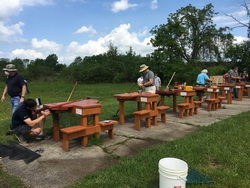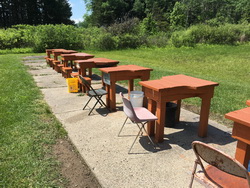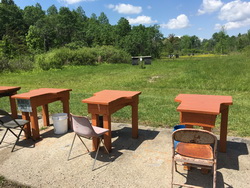 ---
Dear DFG Club Members,
I hope you are all well and safe.
With the COVID-19 situation improved we will be able to carry out our Spring Rifle Range Clean-up, which will be on Saturday June 6 starting at 10am. Please let me know your availability for clean-up day so we can plan accordingly. Many thanks to all who already responded, I really appreciate your help!
We will follow NY state COVID-19 rules regarding social distancing and virus spreading prevention, we will stay outdoors properly distanced, please bring face masks as they are required by current NYS rules.
The range is in a relatively good shape, we need to do mostly minor fixes and rebuild portable targets. Here is the list.
Trash removal. We need to clean all the accumulated debris from the range (entire range). I will provide trash bags; we will need some rakes and brooms (leaf rakes work best for brass). With all the trash and debris on the ground we cannot mow the grass on the range.
Paint the benches and tables with stain/wood protector. Repair anti-wasp mesh under the benches. I will provide the paint, brushes and mesh. In some places on older benches the paint flakes a bit so this year we will need to sand it.
Replace horizontal 4x4 on 100 yard post and rubber flaps on 50 yard target.
Remove reminder of 150 yard permanent target. It stands in the line of fire from other targets and it got totally destroyed. We will not rebuild it, instead we will keep portable target in the area so it can be used at 150 yards if needed.
Rebuild all three portable targets as they are destroyed. I will bring pre-cut wood and screws. We will also build a portable table target (we have one that still stands).
I have repaired metal targets last month, they are still in good shape.
There will be a lot of debris and trash to haul away, we will try to put the trash into the Club trash container, but it may not be big enough. Please let me know if you have a truck registered in Tompkins Solid Waste Center, I may need help hauling the trash there, as some may not fit into my SUV. I will of course pay all the fees for the trash.
It would be very helpful to have some extra tools. We will need leaf rakes, regular rakes and a broom for cleaning. It would be very helpful to have extra cordless drills with screwdriver bits to work on portable targets and hanging rubber flaps. A portable belt or disk sander would help a lot in removing flaking paint from some benches. Please let me know if you can bring any.
If you have any plastic buckets you don't need please bring them so we can leave them as trash bins on the range.
Best regards,
Jarek
DFG Rifle Range Master
---
---

&nbsp