Welcome to Dryden Fish & Game Club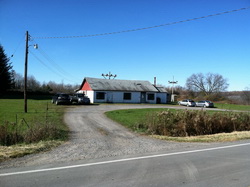 Dryden Fish & Game Club is a shooting sports club located in Upstate New York in the Finger Lakes Region.
Club shooting range is located on Johnson Road in Freeville, NY and has two lighted trap fields (one handicap to 27 yards) as well as 200 yards long rifle and pistol range. The range rules are posted online as well as on the range and must be followed at all times. The rifle range is closed during trap shooting and club events, please check events page before going to the rifle range. Rifle range can be used Monday-Saturday 8am-dusk, Sunday 10am-dusk, rifle range is closed Tuesday 9am-2pm, Thursday 2pm-6pm and Sunday 10am-1pm.
Trap fields are open until 9pm (lights must be on when dark), during Club events trap fields may be opened at 8am on Sundays.
To apply for membership (or to renew one): stop by the club on Tuesday between 9am-11am or on Thursday, between 4:00pm - 6:00pm. The end time is subject to change based on time of year and current events, leagues, etc.
Our Membership year runs October 1 to September 30. Annual Membership costs are $30 per Adult (18 years & older) and $5 per Junior member (ages 12-17). Annual dues are not pro-rated at any time. Members are asked to be able to show a current membership card when using the Rifle Range. The Club is open each Thursday between 4:00pm and 7:00pm for trap shooting and this is the best time to apply for membership and meet Club officers.
Information about the Club events and messages are posted on the Club House front doors and on this website. Please sign up for the Club mailing list to receive alerts and information by e-mail, especially if your are a Club member!